To celebrate our new Website we are having a sale on Home Electronics!
This week's special:
KEF T205 System
With T301 speakers for the front satellite and center channel speakers, and deceptively compact model T101s as rear satellites, plus the discreet T-2 subwoofer, the T205 system is powerful enough to fill larger rooms with a compellingly detailed 3D sound image. As easy to set up as they are on the eye, they make the perfect mid level surround sound system for the latest generation of flat screen TVs.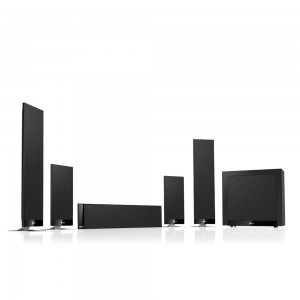 T301 / T301c

Design

Two and a half-way closed box

Drive units

2 x 115mm (4.5in.) dual layer MF
25mm (1in.) aluminium HF

Frequency response

80Hz – 30kHz

Crossover frequency

1.7kHz

Amplifier requirements

10 – 150 W

Sensitivity (2.83V/1m)

91dB (wall mount)
88dB (floor stand mount)

Maximum output (SPL)

110dB

Impedance

8Ω

Internal volume

1.4 Litres

Weight

1.5kg (3.3lbs)

Dimensions
(H x W x D)

600* x 140 x 35 mm
(23.6 x 5.5 x 1.4 in.)

Dimensions
(H x W x D)
centre mode

140 x 600 x 35 mm
(5.5 x 23.6 x 1.4 in.)

* Height of satellites will increase by 30mm when using supplied desk stand
Not all models / finishes are available in all markets. Contact your local dealer for specific range details.

T101

Design

Two-way closed box

Drive units

115mm (4.5in.) dual layer MF
25mm (1in.) aluminium HF

Frequency response

80Hz – 30kHz

Crossover frequency

1.7kHz

Amplifier requirements

10 – 100 W

Sensitivity (2.83V/1m)

90dB (wall mount)
87dB (floor stand mount)

Maximum output (SPL)

107dB

Impedance

8Ω

Internal volume

0.7 Litres

Weight

1kg (2.2lbs)

Dimensions
(H x W x D)

330* x 140 x 35 mm
(13.0 x 5.5 x 1.4 in.)

Dimensions
(H x W x D)
centre mode

140 x 330 x 35 mm
(5.5 x 13.0 x 1.4 in.)

* Height of satellites will increase by 30mm when using supplied desk stand
Not all models / finishes are available in all markets. Contact your local dealer for specific range details.

T-2

Design

Closed box powered subwoofer

Drive units

1 x 250mm (10in.)

Frequency response

30Hz – 250Hz

Amplifier

250 Watts built-in Class-D

Maximum output (SPL)

110dB

Low pass filter variable

Fixed 250Hz, 2nd-order

Low level signal inputs

RCA phono socket

Internal volume

12.7 Litres

Power requirements

100 – 240 V ac ~ 50/60Hz

Power consumption

250VA

Weight

13kg (28.6lbs)

Dimensions
(H x W x D)

380 x 370 x 177 mm
(15.0 x 14.6 x 7.0 in.)
MSRP $1999.99
Sale Price $1699.99 +tax
To take advantage of this great deal
contact us at
or
call us at (860)685-1612
Sale ends 2-08-19